The Bubble Project
Okay, first off, this isn't new. But it might be new to you. It was started in the year 2004.
The Bubble Project
was started by a guy named Ji Lee, who use to be an advertisement executive and now he has started a project which encourages people to deface advertisements. I'm assuming he wants the public to give their own voices to the advertisements rather than the advertisements giving the voices to the public.
At The Bubble Project website you can download your own bubbles, check out what others have done with the bubbles, read a manifesto or a FAQ and even contact
Ji Lee
, what ever floats your boat. You can even read more about The Bubble Project at
Wikipedia
.
They're even working on a book which is due out in Spring! Woo-pee! You can place it on your shelf next to your
Found!
and
PostSecret
books.
Overall, this is pretty creative shit, so check it out.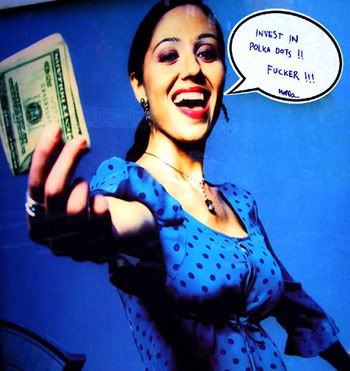 Technorati Tags: advertisements, art, Found!, ji lee, polka dots, post secret, the bubble project, wikipedia